Meet Indonesian authorised distributor, Mr Komang Edy Suarjana, PT APMS
Meet Indonesian authorised distributor, Mr Komang Edy Suarjana, PT APMS
Mr Komang Edy Suarjana, who graduated from the Institut Teknologi Sepuluh Nopember (ITS) where he majored in marine engineering, is the General Manager, PT Arthapusaka Mitra Sakti (APMS), an authorised ExxonMobil distributor in Indonesia.
The company is especially busy around the powerhouse of Kalimantan, one of more than 1,000 islands that make up the nation. Vessels of all sizes are therefore important but meeting all their needs can be complicated.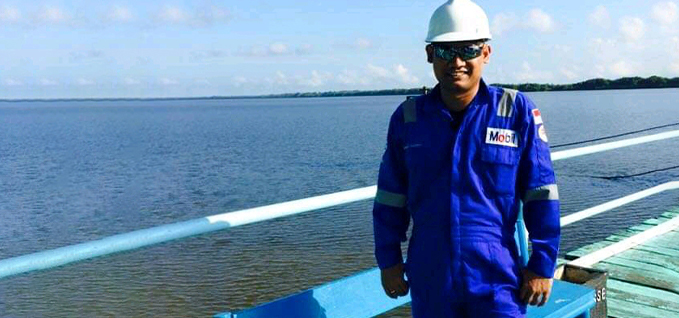 "There's a diverse range of transportation activities, although predominantly via rivers and the sea, and they all require a reliable supply of lubricants. That's where PT APMS comes in. We support all types of lubricant requirements, which is a daily challenge due to the area we cover and because transport vessels cannot wait as their schedules are tight."
The company currently has branches in North Kalimantan (Kaltara), Samarinda, Banjarmasin, Pontianak and Balikpapan, as well as sites in eastern Indonesia, including Makassar and Kendari.
"During the pandemic there were limitations on face-to-face contact so we implemented a digital strategy, interacting via the internet and Zoom calls. We've also enhanced our product offer, providing high-class lubricants that have an extended operational life. This has been important as customers have found it difficult for mechanics to visit them for maintenance."
As part of its commitment to helping local communities tackle the pandemic, PT APMS distributed hundreds of food parcels to people who were economically affected by the virus outbreak.
Helping customers deal with biofuels
One of the bigger issues for local vessel operators is the government mandate that stipulates the use of biofuel, which initially triggered issues such as filter blockages and overheating.
"This meant that we had to understand the customers' operations. Thankfully, ExxonMobil offers biodiesel compatible high speed diesel engine oil," said Pak Komang. "In addition, we run seminars to help educate our customers about handling biodiesel, such as B30."
PT APMS has also benefitted from ExxonMobil's services, which Pak Komang believes has helped grow the business. "ExxonMobil has a special engineering division that helps us provide better services. As part of this offer, we work with our customers to establish their optimum oil drain intervals (ODI). We also offer Mobil Serv℠ Lubricant Analysis, which is designed to simplify the lubrication monitoring process, helping increase the reliability of shipboard equipment and lower maintenance costs."
Using these tools, PT APMS recently helped local vessel operator to safely and effectively extend the oil drain interval of one of its tugs to 1,000 hours – four times the OEM recommendation – following a switch to Mobilgard™ HSD 15W-40 engine oil.
This combination of products and services helps ensure that APMS can continue to build its reputation, says Pak Komang. "Our mission is to provide the best support for all customers. Our team and facilities, combined with our product offer, will ensure our future success."
Marine news and resources

ExxonMobil stays abreast of the latest industry news, insights and resources to help you navigate crucial issues and establish effective solutions for optimal vessel operation.